Simple. Efficient. Affordable.
★★★★★

Rated Simple Solution for Hot Water Radiant Floor Heating
From a bathroom or kitchen floor, to an entire home or commercial building, trust Ultra-Fin to simply and efficiently deliver the most comfortable radiant heating possible.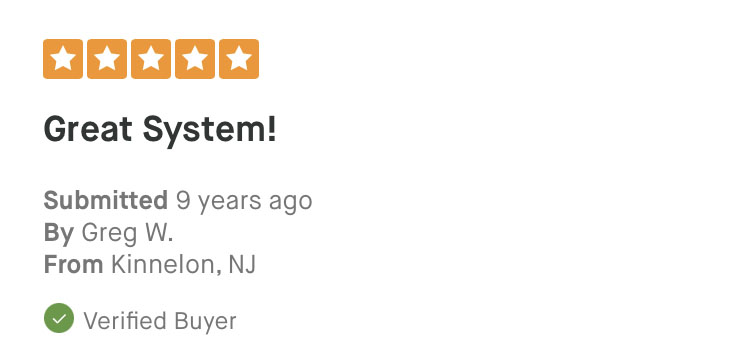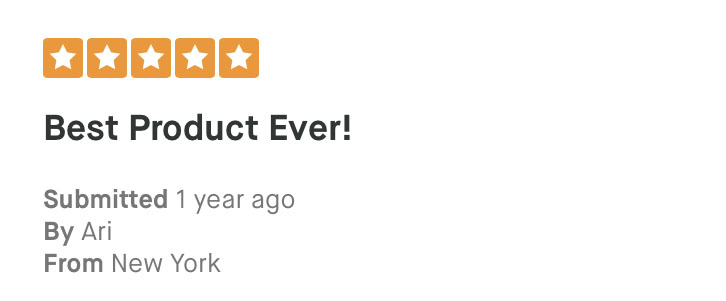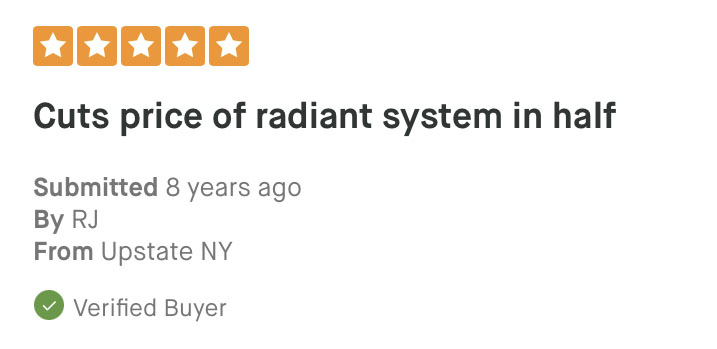 Ultra-Fin Radiant Floor Heating Systems
Comfort. Control. Simplicity. Efficiency.
The Ultra-Fin Radiant Floor Heating System features a unique design that eliminates the complexity and high cost of traditional radiant floor heating systems. Ultra-Fin® provides huge cost savings in installation when compared to other systems, and Ultra-Fin® delivers faster response times and superior comfort during daily operation.
Control
Compared to conventional radiant in-floor heating systems, Ultra-Fin has revolutionized the way to maximize the number of heat zones throughout your home.
Comfort
The radiant heating system works on the premise of heating the floor so that the heat is where you need it – from the feet upwards.
Health
Why live in a dust bowl? In contrast to forced-air systems, radiant heat doesn't blow dust, allergens, and dirt around the living space.
Efficiency
Thermostats can generally be set at lower temperatures than other types of heating systems to achieve the same degree of comfort.
Power
While the most common power sources that provide heat for hydronic systems are electric or gas boilers, alternative methods such as ground-source heat pumps may also be used to heat the water.
Flexibility
The radiant heating system works on the premise of heating the floor so that the heat is where you need it – from the feet upwards.
Simplicity
With the Ultra-Fin Radiant Floor Heating System, hot water tubing runs either adjacent or across open joist spaces for easy installation.
Environment
Radiant heat systems are more energy efficient than other standard home heating systems.
Radiant floor heating systems vary according to the installation method, heat source, cost, and complexity. Ultra-Fin is a leader in all of these areas.
Learn More
Proven and Trusted Radiant Floor Heating
"I have installed your product in one of my customers homes. After 6 years of use it still proves to be the best product I have ever used in a joist space installation. The install was very simple and the 3/4 inch maple floor is always perfectly warm with equal distribution. Therefore I have chosen to install this in my own home. Just thought you might like to know about my success with your product."

Christopher Milo, Plumbing and Heating Professional

Minnesota
"I chose the Ultra-Fin heating system for our new home. The system was installed under three floor coverings; hardwood, ceramic tile, and linoleum. I am delighted to say the performance claims made by Ultra-Fin proved to be correct. After experiencing Ultra-Fin I would never consider any other system."

Michael S. Bailey

Halifax, NS, Canada
"I wouldn't trade our Ultra-Fin system for anything we've had it for five years and it's been great. It's worked fine with our hardwood floors, and it's definitely been cheaper for heat in the winter. In fact, we were comparing our heating costs with some neighbors who have different radiant systems, and our costs were about 30 percent less per day."

Ken & Brenda Tamlin

Lindsay, ON, Canada
"I have Ultra-Fin in both floors of my home. Many local contractors were skeptical about this system. That was almost eight years ago. Our home always stays warm even in sub-zero weather. We also get many compliments in the winter when people come to our home. They love the warm floors. The fins and hanger installation was simple and effective."

Robert Brown

Mt. Pleasant, PA
"We installed 26 heating zones and over 8000 feet of tubing in the house, we fired up a portion in October, and then we fired up the rest in December just before Christmas. After that, we were working in t-shirts all winter long. We weren't even insulated – the house was basically wide open, just the windows in – and it just heated right up."

Steven G. Pisauro

Layton, NJ
Interested in learning how Ultra-Fin can benefit you and your home? Get in touch with us today!